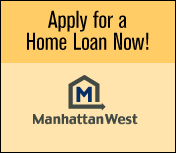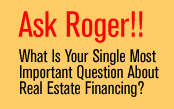 Testimonials
Hi Roger,
I just wanted to say your company and you are a God send. I was for years drowning in debt refinanced several times and no one was able to consolidate all my debt. like you guys did. I was blessed to have heard you one day giving an example worse than me and I called and caryl was kind and so positive and I life is now a new life my marriage is now financilly stress free, please use me if you want as an example anytime the rates are right again or when you see fit. May God bless you and your family your knowledge has made this family forever grateful I hope your company does great forever. Thanks!
Leticia J.
Roger,
I would like to thank Manhattan West Mortgage for the work that was done on my recent refinance. My husband and I signed our loan documents on Monday and it could not have come at a better time. First, my husband has been on disability for several months and that has tapped us of all of our savings and reserves. Second, we just found out last weekend that we are going to have our first baby, so now more than ever we need to start saving money. We were in dire need of a solution to cut our monthly costs so we could begin building our savings back up. The refinance combined our first and second mortgages and cut the total payment nearly in half! Jason worked very hard for us and put up with my many questions and phone calls (I must have driven him crazy). MWM has been a life saver for us and we cannot thank you enough.
I first contacted your company because of the conversations you have every day with Michael Medved and Hugh Hewitt and I'm so glad I did! Thank you again for all you've done for us!
Julie G., Sacramento, CA
Roger Schlesinger has been my sponsor for five years. He's been my mortgage banker for just as long. I send all of my friends and all of my listeners to him. He doesn't oversell. He doesn't overpromise. He doesn't underperform.
What he does do is find the very best mortgage product for you, but he precedes it with a thorough analysis of all your debt —
not just your home loans–so that you end up on the road to financial freedom at the end of the transaction.
Start at his online home www.mortgageminuteguy.com and you'll be glad you did.
No question is too basic, no financial situation too complex, and no credit rating too low.
Trust Roger. I do and thousands of my listeners over the past five years have as well.
Hugh Hewitt
When it comes to finding the right deal, Roger is like a dog with a rat in his mouth – he just won't let it go…
Joe Mantegna